Like most lacqueristas, I cannot pick a favourite brand. They all have their qualities and that's why we have them in our stash, right? However, when I quantified the qualities of some of my polishes, I decided Topshop came out a winner. Their polishes last forever on my digits, they hardly chip, t
hey are reasonable priced for Australia and
they tend to keep up with polish trends, sometimes even invent their own to-drool-for colours. I think the main reason why I chose this brand is because Topshop polishes mean a holiday for me. There is no Topshop in my city so every time I get a bottle is because I'm somewhere away from home; as I have gotten them in small batches, each one has a special time an d memory attached to it.
I am aware I'm a day late for today's challenge but c'mon, I prioritised my uni work over nails for once. I had to come up with something quick and settled to loosely base my mani on this dress from Topshop, just to keep going with the theme. I figured dressmaking and designing is art, right? So I'm still responding to the prompt for the challenge.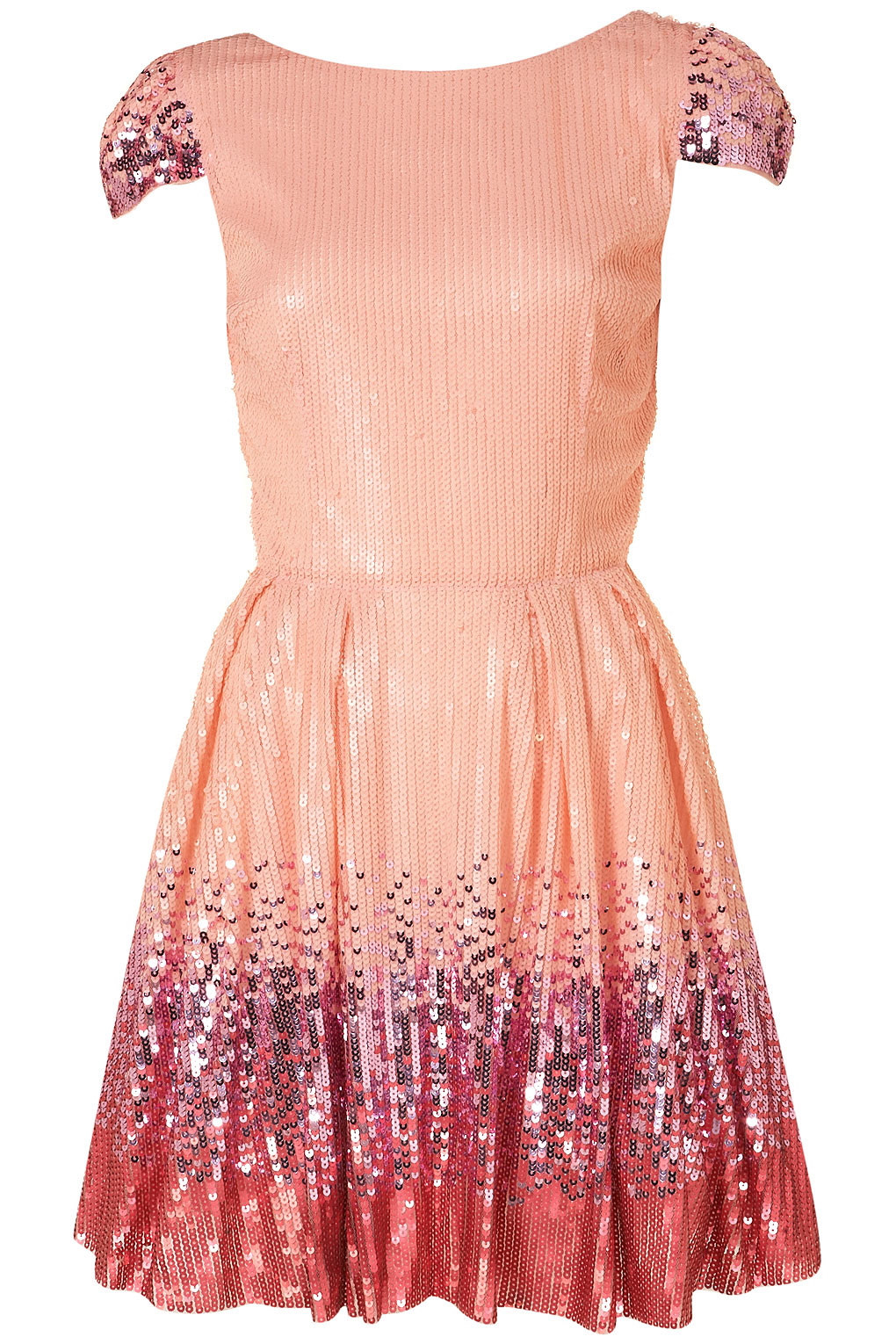 Source
I used High Voltage (pink creme) as a base, then put Plume (glass flecked purple) and Blitz (gold shimmery pink) on a sponge to create the gradient and slowly tapped it on my finger. I repeated the sponge on process three times on each finger. Sealed the gradient with one coat of Seche Vite.
As soon I was ready to take the photos, the sun hid behind some clouds. This gradient is ssssparkly so I waited about 15 minutes in my backyard waving my arms around telling the clouds to go away. I wish this was a joke but I actually did it *Laura looks away slightly embarrassed*. The sun came out for about two minutes so I had to take photos quickly.
I was concentrating on getting the sparkle to show and not so much on the colour accuracy. The next photo is not flattering but it shoes a much better representation of the light spectrum reflected from my nails.
I actually did the gradient on my thumb first to see how many coats Plume would need as it can take four coats of the polish on the nails to look opaque. I was quite happy with the way it turned out because generally my gradients turn out super thick and uneven; I guess using the sheerer polishes helped me out.
I really like this mani and I wanna keep it for a long time, it's so pretty and sparkly. I know I didn't show it very well on the photos but take my word for it. It also reminds me of the half moon/french tip trend that was happening at the beginning of the year and it was completely unintentional.
Random photo that I took when I was waiting for the sun to come out. Anyone know what flower this is?
Check out the other 33DC participants' manis.